Highland

Pronounced tom'a'tin as in satin
Meaning The hill of the juniper bushes.

Water source Allt na Frithe

Tomatin Distillery
Tomatin
Inverness-shire
IV13 7YT
Tel 01808 511444

Open all year. Apr to Nov Mon to Fri 9am to 4.30pm. May to Sep Sat 9am to 1pm.

Established in 1897. Silent between 1906 and 1909. Stills increased from 2 to 4 in 1956. Further 2 in 1958, 4 in 1961, 1 in 1964 and another 12 in 1974 making a total of 23. Number of still reduced to about half in recent years. At one time Tomatin was the largest producer of Scotch malt whisky producing 5,000,000 gallons annually. First Scotch distillery to be wholly owned by a japanese company.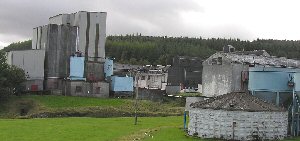 Last updated 28th january 2005