Water source two lochs in Ardconnel

Oban Distillery
Stafford Street
Oban
Argyll
PA34 5NH
Tel 01631 572004

Open all year except except December and New Year. last tour one hour before closing.
Jan - Feb, Mon - Fri 12.30pm - 4pm. March Mon - Fri 10am - 5pm. Easter - June, Mon - Sat 9.30am - 5pm. July - Sept, Mon - Fri 9.30am - 7.30pm, Sat 9.30am - 5pm, Sun 12noon - 5pm. Oct Mon - Sat 9.30am - 5pm.
Children under 8 are welcome but not allowed to tour the distillery.
Adult admission charge redeemable in shop towards a 70cl bottle of malt.

One of the oldest Scotch distilleries dating back to 1794, the present buildings being modernised in the late 1960s. Silent 1931 to 37 and 1969 to 72 the latter period due to building works. Until recently Oban was bottled at 12 years in a destinctive triangular bottle but now is bottled in a typical round bottle at 14 years. One of United Distillers Classic malts.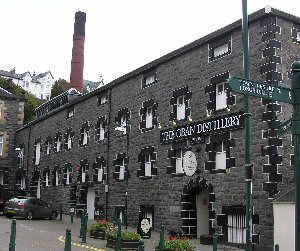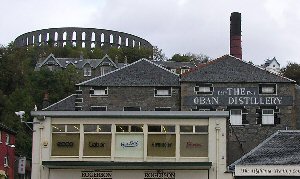 Last updated 31th December 2004