Eastern Highlands

Pronounced Glen geerie.

Water source a spring on Percock Hill

Glengarioch Distillery
Oldmeldrum
Inverurie
Aberdeenshire
AB51 0ES
Tel 01651 872706

Built in 1797. Silent between 1968 and 1970. Number of stills increased from 2 to 3 in 1973. Mothballed in 1995, renovated and subsequently re-opened in 1997. Waste heat from the distilling process is used to heat approximately 2 acres of greenhouses.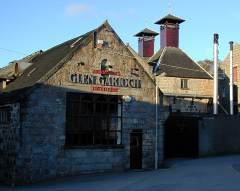 Last update 21st November 2002.