Dalmore

Highland

Meaning Big Meadowland

Water source Alness River

Dalmore Distillery
Alness
Ross-shire
IV17 0UT
Tel 01349 882362

Open mid Jan to June and Mid Aug to mid Dec Mon to Fri 10am to 5pm. Weekends by appointment.

Founed in 1839. Malting converted to Saladin boxes in 1956. Four new stills added in 1966 making 8. New still are smaller than original 4. During World War 1 the buildings were commandeered for the Royal Navy to manufacture mines. All stock was removed to other distilleries, it was another 3 years before the distillery was in production and the stock returned with not a single cask missing. In an explosions towards the end of the war various building were destroyed, but thankfully the stills were not damaged.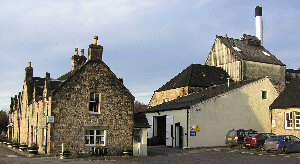 Last updated 24th December 2004