Royal Brackla
Northern Highlands

Water source Cawdor Burn

Royal Brackla Distillery
Cawdor
Nr Nairn
IV12 5QY
Tel 01667 402002

Visiting by appointment only.

Founded in 1812, rebuilt in 1890. Closed during WW2 when it was used as RAF Brackla home to No 2 Air Gunnery School and as a relief landing ground for RAF Dalcross. Modernised in the 1965-6. Number of stills increased from 2 to 4 in 1970. Closed in 1985 for some time but reopened 1991. In 1994 during the demolition of one of the old warehouses a 10 to 15 foot(4.5m) wide hive of wild bees was found in one of the walls. It was estimated that the hive may have been approximately 70 years old. Around 1860 Royal Brackla was one of the malts, use by Andrew Usher, to create the first blended whisky.
In 1835 Royal brackla was the first Scotch distillery to be granted a Royal Warrant it being presented by King William IV, a second was granted by Queen Victoria in November 1838, at this time she was of the ripe old age of 19.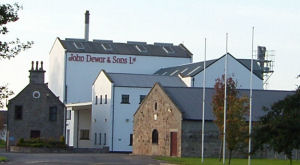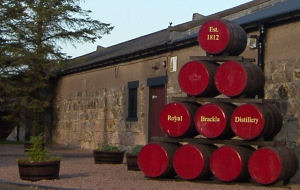 Last updated 2nd January 2007